This topic only applies to the Dreamweaver Extension version of the product. Skip this topic if you're working with the Standalone version.
The Dreamweaver Extension is the utility which integrates with Dreamweaver, allowing you to insert slideshows into your webpages. It is required in order to create slideshows. To install it, locate the SSv4_DW_ext.mxp file in the main ZIP file you downloaded:

Tip: If you already have version 2 or 3 of the XML Flash Slideshow installed, you don't have to remove these older versions. All versions operate independently.
The MXP file format is the format used by Adobe Extension Packages. When you installed Dreamweaver or the Adobe Creative Suite, the Adobe Extension Manager (Macromedia Extension Manager for Dreamweaver 8 and prior) was automatically installed. The Extension Manager is configured to automatically open and install MXP extensions. Double-click the SSv4_DW_ext.mxp file to begin the extension installation. The Extension Manager should open and you will be prompted to accept the extension license. Click Accept to install the extension: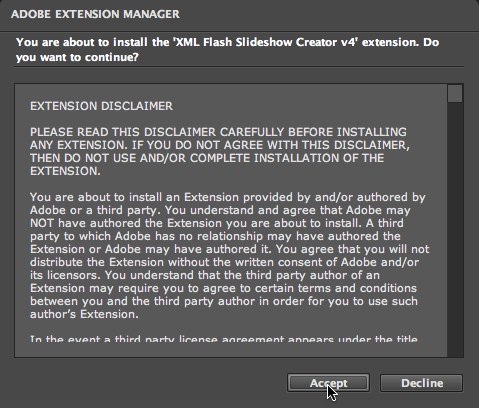 Note: This screenshot is from the Extension Manager CS4. The appearance of older versions of the Extension Manager will differ slightly.
Once the extension installation has completed, you will be notified: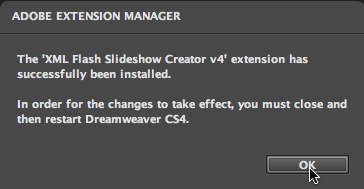 As noted in the message, you must restart Dreamweaver for the extension to be fully installed and ready to use.
Handling Multiple Dreamweaver Versions
If you have multiple versions of Dreamweaver installed on your system, especially versions prior to CS4, you will need to enable the extension for each of the versions with which you want to use the software. To do this, select each version of Dreamweaver from the products menu individually: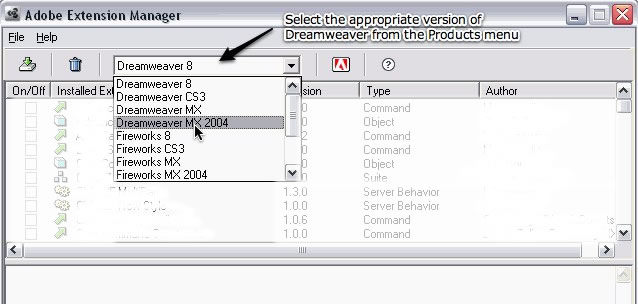 Scroll down to the XML Flash Slideshow Creator v4 item, and make sure the Enabled checkbox is selected. If not, click it; this will enable the extension for that version of Dreamweaver.